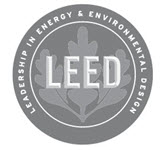 The U.S. Green Building Council was formed in 1993 with the goal of promoting sustainability in the building and construction industry. LEED is administered by the U.S. Green Building Council.
| | |
| --- | --- |
| | LEED, standing for Leadership in Energy and Environmental Design, is a sophisticated rating system ran by the USGBC that measures a building's efficiency. LEED Green Associates understand the basics of building operations and are knowledgeable in strategies to promote sustainability. Attaining the LEED Green Associate certification is the first step towards becoming a LEED Accredited Professional. |
| | AWARDED TO Oscar Vargas, Jessica Wright |
| | The understanding of a LEED Accredited Professional goes beyond the basics of building systems to hone in on a particular field of expertise. The LEED AP Operations and Maintenance designation implies an advanced knowledge of resource efficiency, building operations, and sustainable strategies. |
| | AWARDED TO Rebecca Coalson, Mital Hall, Justin Schwartz, Alexa Stone |
| | LEED Building Design and Construction includes a further specialization, the LEED for New Construction. This rating system applies to all new buildings so they are built in accordance to strict environmentally friendly and occupant safe guidelines. The LEED AP NC credential grants the individual a wide breadth of environmentally responsible construction techniques, such as increased waste diversion. |
| | AWARDED TO Alberto Brioso, DuWayne Baird, Michael Kuk, Justin Schwartz, Rains Vickery |
---
The Institute for Sustainable infrastructure is a nonprofit organization, chartered to help communities build a more sustainable infrastructure. It developed and now maintains Envision, a rating system for the sustainability of civil infrastructure.
The ISI offers a training program and exam leading to ENV SP accreditation. Professionals achieving this designation use Envision system metrics to evaluate infrastructure sustainability. This guides project decisions that consider environmental impact while evaluating materials and processes throughout the project lifecycle. The Envision system also facilitates stakeholder discussions focused on resource stewardship.
AWARDED TO Alexa Stone
---
The International Facility Management Association was founded in 1980 and is the largest and most known facility management association in the world. The goal of this organization is to enhance facility management practices globally.
| | |
| --- | --- |
| | Becoming a Sustainability Facility Professional (SFP) comes with a knowledge base consisting of operational efficiency, productivity, and sustainability. SFPs are able to incorporate sustainable, planet-conscious strategies into facilities by leading and guiding teams of other dedicated professionals. |
| | AWARDED TO Alexa Stone |
---
Project Management Institute (PMI)
The Project Management is an organization committed to management professionalism.
Project Management Professional (PMP)
| | |
| --- | --- |
| | The Project Management Professional (PMP) certification is a highly valued credential. PMPs have the superior skill base to lead projects of any size towards success. Time, human resources, quality, and many other management skills are within the expertise of a PMP. |
| | AWARDED TO Mital Hall |
---
The American Board of Industrial Hygiene is responsible for certifying industrial hygienists. This not-for-profit organization strives to provide education on environmental health and safety.
| | |
| --- | --- |
| | A Certified Industrial Hygienist (CIH) is a rather exclusive credential. It requires years of experience with industrial systems in addition to a strong higher education in science. By understanding how industrial systems work, a CIH manages toxicology, indoor environmental quality, as well as oversees the occupation safety of mechanical personnel. |
| | AWARDED TO Alberto Brioso |
---
The Florida Department of Business and Professional Regulation is responsible for licensing and regulating mold assessors and mold remediators.
A Mold Assessor is able accurately utilize technology to discover areas of moisture and water intrusion. This credential, recognized by the state of Florida, acknowledges the experience and knowledge needed in a Mold Assessor.
AWARDED TO Alberto Brioso
---
Through the Florida Stormwater, Erosion, and Sedimentation Control Inspector Qualification Certificate Course, The Florida Department of Environmental Protection offers training on employing Best Management Practices to minimize impacts of erosion and sedimentation and surface water contamination on the construction site.
The Stormwater, Erosion, and Sedimentation Control Inspector minimizes the impacts from solids (TSS), turbidity (NTUs), and nutrients (i.e., nitrogen and phosphorus) and other surface water contaminates, using innovative techniques and specifically designed erosion control systems.
AWARDED TO Rains Vickery
---
Florida Water Star is a water conservation program that educates people on how to use water responsibly and efficiently.
| | |
| --- | --- |
| | This special accreditation was originally designed for landscape and irrigation personnel. Florida Water APs understand how to use water responsibly for landscaping for both residential and commercial purposes. |
| | AWARDED TO Jessica Wright |